Guitar, Bass, Piano, Drums Lessons in Greenville, SC
by Palmetto Music Institute
1628 E. North St., 29607 easy access to I-385, Church, Wade Hampton, and N. Pleasantburg. 444-8379 M-F 10-7, leave msg for return call. $35/mo. & up group, $100/mo. & up private, see Programs for details.
Learn the right things, in the right way, in the right order for maximum results in the shortest possible time ...
PMI provides innovative private Guitar, Bass, Drum, and Piano Lessons in Greenville, SC, and video lessons & educational articles for the Web community.
Palmetto Music Institute is a registered educational institution located in Greenville, South Carolina offering several targeted guitar lessons programs through a local studio focusing on popular instrument styles, an informational web course, and live web cam lessons. Please see our Programs page via the link at the top of the screen for details. Additionally, PMI publishes helpful articles and free lesson videos via popular outlets such as Ezine and Youtube.
For Greenville locals, PMI is conveniently located in the East End Historic District, a.k.a. the "Music District" - the cluster of music shops on the outskirts of Downtown Greenville, with easy in/out access to I-385 or Pleasantburg drive. Please see our Programs link at the top of the page for more information.
The Free Resources page contains helpful information from professional musicians and equipment vendors on a variety of music related topics.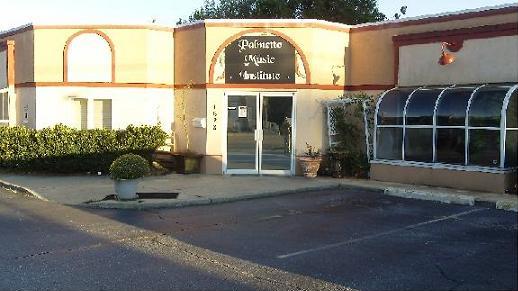 If you prefer in-person lessons and you are not local to Greenville, SC, you may be able to find a qualified, PMI endorsed guitar instructor in your area by clicking through to our guitar teachers referral directory. For further details please click the Programs link at the top of the screen.
Just ask our clients!
"I received a guitar from my wife for Christmas in 2014. I had wanted to play the guitar for years, but always found an excuse not to give it a try. That Christmas gift gave me the push I needed, so at age 54, I began searching the Upstate for a guitar instructor. Out of the masses, one instructor stood out, Mr. Chad Crawford. The fact that he offered a free lesson was just icing on the cake so I contacted Chad. During our subsequent conversation, I became firmly convinced that Chad was the instructor who could best teach me to play and I enrolled in his course.That was a year ago and I'm telling you that Chad is as advertised, if not more. He will create a lesson plan, tailored to your progress, that will help you avoid the many pitfalls that lie in wait for the self-taught or online student. Please be clear on one point - Chad's course of study requires commitment and practice. Chad is passionate about guitar instruction and he expects a high level of commitment from his students. Guitar lessons are not inexpensive and should be considered an investment in oneself. I would recommend Chad Crawford without hesitation to anyone who is serious about learning to play the guitar. He is an accomplished musician and has an in depth understanding of music, in both theory and practical applications. My review is unsolicited, and there's nothing in it for me other than the hope that some aspiring guitar player will take note and enroll at the Palmetto Music Institute. If you're serious about playing guitar, regardless of your skill level, Chad Crawford is the man to see. " - Jamie Welsh, Simpsonville
"I started taking guitar lessons as a 12 year old. I lost interest when results were disappointing. I tried to teach myself through trial and error with no real success. Then I took lessons again as an adult for three years. I learned some popular songs but no actual musical knowledge and understanding. I started taking lessons from Chad Crawford at Palmetto music Institute about 1 year ago. I've already learned way more than I had learned previously. Chad has a structured curriculum to systematically teach how to play guitar and learn to create music. He also teaches how to learn and play your favorite songs. Not only has Chad taught me musical knowlege, and how to create original music, but he is also correcting bad technique habits I have gained over the years. I really appreciate all that Chad has taught me and recommend him highly." - Jeff W. Brown D.C., Greenville
"Having retired several years ago, I pursued my desire to learn my first musical instrument - bass guitar. Armed with my Craig's list bass and amp I sought out local instructors that would accept the "mature" student. After 5-6 months and multiple instructors I found little satisfaction in that the focus of their instruction was how to read tabs and learn a "song of the week", with little or no understanding of what I was doing. Discouraged by lack of progress and ongoing expense, the instrument soon found its way to the back of my closet. Encouraged by my brother last Oct to again pursue my goal, I researched area instructors again. During this search I came across PMI. Intrigued by the Free Introductory Lesson, I completed the online referral and made an appointment to meet with Chad. From the opening discussion, to process, to clear expectations for the student and instructor it was obvious to me that Chad Crawford demonstrated the traits of a highly trained musician and instructor. Over the last several months I have not just learned how to thump strings but learned beginning techniques, scales, timing, rhythm and music theory that will allow me to continue to grow into a player and hopefully someday a musician. Chad's supportive teaching, motivation and clear explanations make every lesson a true learning experience. Chad's Application Group Lessons allow each student to participate and apply what they have learned and grow in their mastery of their instrument no matter what level they are at. Having experienced what I would call the "Dark Side of Music Teachers", I find it difficult to express my satisfaction and gratitude to Chad for being the "Bright Light" at the end of the tunnel. If you truly desire to learn to play a musical instrument then Chad Crawford will help you meet your goals. With my respect and gratitude ..." - Paul Bateman, Greenville
"I purchased my guitar at Christmas in 2014. Even with no background in music, I still thought I could teach myself using various on-line resources. After trying this approach for six months and realizing it wasn't working, I turned to Palmetto Music Institute for professional instruction. Chad is guiding me in proper guitar technique and helping me to build a foundation in music, literally from scratch. I am very pleased with his precept-upon-precept approach, his correction where technique is wrong, and his on-going encouragement as I endeavor to learn this instrument." - Rusty Allen, Mauldin
"I would like to express my gratitude to Chad Crawford of Palmetto Music Institute for teaching guitar to my 13 year old son, Trent. Chad has been instrumental in cultivating Trent's musical abilities. The rapport of the instructor and the student is amazing. Trent was learning songs within weeks along with the 'solos' of the songs. With Chad's teaching ability and detailed program, Trent has excelled to the point that he has earned a tremendous opportunity to pre-enroll for the Fine Arts Center - a year and a half early. I am extremely proud of Trent's accomplishments, and I highly recommend Chad." - Brandy Long, Travelers Rest
With a personally tailored version of a proven program, we will incorporate your current skill set (from complete beginner and beyond) into a customized version of this program that is targeted toward your playing goals. Working together we will achieve results that you and your friends can see, hear, and feel!
Your journey to musical mastery starts with a FREE consultation at our studio (by appointment). During this no-cost meeting we will evalaute your current skill set, and tell you all about how our programs works and how we can help you achieve your musical goals. You can reserve your FREE, NO-OBLIGATION INTRODUCTORY CONSULTATION by clicking on the link you just read.
"As a parent, I couldn't be happier with the progress that Abby's made with Chad. He isn't too easy, has high expectations and continues to push in a positive away. I feel like guitar has given Abby an identity and boosted her self confidence. Coincidence or not, her grades have improved greatly since she started playing. I definitely feel like guitar is a gift that will last her a lifetime." - John Poore, Simpsonville
"For years I had wished that I could play the guitar. Unfortunately that was as far as I ever went with the idea. I really believed that, since I had no natural musical talent, there was no way I could play the guitar well. Since meeting Chad Crawford, I have learned that most musicians, including many well-known professionals, didn't just pick up a guitar and start playing at an advanced level. Their "natural talent" actually was the result of receiving instruction in proper playing techniques along with a willingness to practice to improve those skills. I was thrilled to discover that playing guitar wasn't just one of those things I always wanted, but knew could never happen. I am optimistic that with a proven teaching method and the guidance of a qualified instructor, learning to play the guitar well is within my reach. I have found both the method and the instructor at Palmetto Music Institute. I know now that the realization of my goal is possible if I am willing to listen, learn, and practice. I am looking forward to making some great music!" - Marshall Black, Greenville
"I have been taking lessons at Palmetto Music for about a year. Chad has a very comprehensive course and customizes it to the student's needs and desires. The one thing I'm learning, that I did not expect is music theory. When you learn how music is put together you can learn to play quicker. If you want to learn, really learn, the guitar and have fun and be challenged along the way, this is your place and Chad is your teacher." - Butch Pearson, Greenville
"Whether you are an experienced player or picking up a guitar for the first time Chad has a plan for you. Unlike other guitar teachers Chad doesn't teach you a top 40 song a week and he doesn't start you out learning simple melodies either. His system is well researched and thought out. It's organized to offer his students a comprehensive program of fundamentals with which to build a musical foundation. With these tools and practice his students are able to progress at their own pace and get to where they want to be musically. Recommended for serious students committed to practice and learning." - Bob Brugnoni, Greenville